The Games are the largest (regularly occurring) multi-sport event in Australia and provides mature- aged Australians opportunities to participate in the sports of their choice and to compete with their age peers.
The Games are managed by UniSport Australia, a not-for-profit organisation.

Schedule Overview here final
Skating Order Official Practices here final
Skating Order Competition (result of Draw) here final
RESULTS

Music Upload form and Site here

PPC Form singles (due asap e.g. by 28 September and definitely before 3 Oct)
Please note: no PPC are required for Artistic events
PPC Form Synchro, Pairs & Dance (due asap e. g. by 28 September and definitely before 3 Oct)
Please note: no PPC are required for artistic events
The website for the Games (including registration) is: here
Notes:
Information for entrants:
ISU Technical Requirements for ISU Adult Figure Skating Competition 2019-2020 Season
Information from the 2017 Crystal Challenge for Duo and Trio
Notes:
Please only regard the technical requirements in the above document
In Australia, skaters can compete in Adult divisions once they turn 18 (rather than 28 as in the above document). Permission was given by the AMG for figure skating to have a younger than usual minimum age
The Copper division for singles, and the Advanced Adult for Synchro are ISA (Ice Skating Australia) divisions and use the technical requirements outlined in the ISA By-Laws.
The age groupings for figure skating at the AMG were especially created with permission of ISA

Policies required by 17AMG
IceArenA Extreme Weather Policy
IceArenA Emergency & Evacuation Policy
IceArenA Emergency Exits Map
- Other SAISA policies are on the Policies page
Figure Skating 17th Australian Masters Games (17AMG) Profile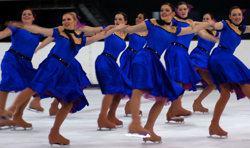 This is only the second time figure skating has been included in the Australian Masters Games, the first time being in Adelaide in 2015. The skaters really enjoyed the experience of meeting and competing with other adults and making new friends. The South Australian Ice Skating Association (SAISA) and the IceArenA management (South Australian Ice Sports Federation) are looking forward to welcoming the skaters this year and wish them an enjoyable time.
In Australia, skaters can compete in adult divisions from the age of 18. At the 2015 AMG in Adelaide there were competitors in all adult age groups including several in the 70 and 80-year-old brackets. Some skaters originally learnt to skate as children and continued on and others only took up the challenge in later years. All love the physical, mental and emotional challenge of ice skating and the friendships formed.
Adult skaters compete in singles as well as pairs, ice dance, artistic divisions and also 'Synchro' (synchronized team skating). 'Synchro' is a rapidly growing skating category where up to sixteen skaters skate on ice as a team moving as a flowing unit at speed while performing moves in unison.
Figure Skating will be held at the IceArenA, Thebarton, which is conveniently located close to the city.