Aussie Skate (TM) is the national learn-to-skate program, designed for beginners of all ages.
When you sign up for Aussie Skate you will be in a program that focuses on fun, participation and basic skill development.
You will earn badges and other incentives as you learn fundamental skating skills.
Lessons are given in a group format and led by a cerified professional coach.
Skaters progress at their own rate and coaches make sessions lively using a wide variety of activities that create a fun (active activities) environment and promote learning.
Aussie Skate is the feeder program to all other Australian skating programs, from club competition to National championships and along the Olympic pathway. Aussie Skate is also the feeder program in to Ice Hockey and Speed Skating.


How to register
Become part of the skating family and register with Aussie Skate (TM). When you sign up for a skating program at an Aussie Skate participating rink you automatically become registered with the national organisation. If you are thinking about taking lessons for the first time, have tried before or you want to introduce your children to a healthy life-long sport, contact either the IceArena or the Noarlunga Ice Sports Centre. The once only registration fee is $66. There are many advantages that go with registration such as 24/7 personal accident/personal injury and public liability insurance when competing in or training for a sanctioned Aussie Skate event, access to the new Aussie Skate programe and materials, the opportunity to participate in Aussie Skate competitions and a back pack for your skates full of the latest information and booklets for skaters and parents.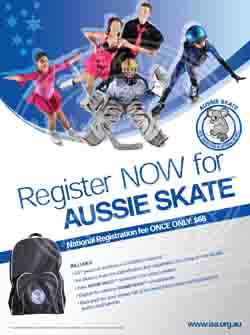 Aussie Skate lessons are avaialble at:
IceArenA - Thebarton 8352 7977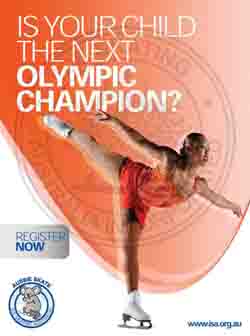 Aussie SkateTM New Curriculum
Aussie SkateTM Competition Divisions & Requirements (April 2010)