December 3 2023
Congratulations !
At the Australian Figure Skating Championships in Erina, NSW, 3 Dec 2023:
Adelaide Ice Magic (AIM) Adult SYS Team: in Adult Synchronised Skating - 1st Place
Adelaide Ice Magic (AIM) Mixed Age SYS Team: in Mixed Age Synchronised Skating - 1st Place
Well Done! Amazing effort!

December 2 2023
Congratulations !
At the Australian Figure Skating Championships in Erina, NSW, 2 Dec 2023:
Adelaide Ice Magic (AIM) Advanced Novice SYS Team: in Advanced Adult Synchronised Skating - 1st Place
Adelaide Ice Magic (AIM) Basic Novice SYS Team: In Basic Novice Synchronised Skating - 2nd Place

November 24 2023
Extra pratice times - State Team only
Times are Friday 1 Dec 5.45am-6.45am and Saturday 2 Dec 6-7am.
Please email SAISA to secure your spot
November 24 2023
Rink opening again !!!!
Dear Members,
Great news from Richard Laidlaw
All has been resolved and the rink will be back to normal operations as of tomorrow morning, Sat 25 Nov
Thank you Richard
SAISA
November 22 2023
SAISA AGM New Date: Wednesday 13 Dec 2023 @ 6pm @ Sport SA, Military Road West Beach. Members welcome.
Taking into consideration the concerns raised by our members in relation to the date of the AGM,we sought an extension to hold the AGM due to extenuating circumstances. As a result the AGM will now be held on 13 December.
Nominations will be open until 4 December.
For those who have already nominated, there is no need to resubmit your nomination as it has already been received by SAISA.
November 20 2023
Please note: an extra extension of time to hold the AGM has been applied for at the request of members. New date to be advised asap.

November 3 2023

SAISA's invitation to AIS Athlete Wellbeing and Education Programs is posted in the Activities section here
The Starting Strong in High Performance Sport Program is an initiative delivered by the Wellbeing and Education Team at the Australian Institute of Sport (AIS). It's aim is to prepare athletes to be successful in life and sport. There are webinars for parents of high performances athletes as well. See the link above for more information and links

Oct 14 2023
Sunday Running Order here
Oct 13 2023

State Championships and Spring Cup 2023
Saturday Running Order here
Please note: Warmup groups have been combined

Oct 13 2023
Results: from Thursday on AMG Results page here

October 10 2023

Australian Masters Games 2023
General Warm-up Groups: Thursday and Friday

October 9 2023
State Championships and Spring Cup 2023
Skating order following the DRAW updated

Australian Masters Games 2023
Result of Draw, Skating Order Thursday
Result of Draw, Skating Order Friday

October 8 2023
Skating order following the DRAW State Championships and Spring Cup 2023
Australian Masters Games 2023
AMG23 Figure Skating entries update, Result of Draw, Skating Order Thursday
AMG23 Figure Skating entries update, Result of Draw, Skating Order Friday
October 5 2023
AMG Figure Skating Schedule Thursday (Technical Divisions)
AMG Figure Skating Schedule Friday (Artistic Divisions and Synchro)
State Championships and Spring Cup 2023
ScheduleSkater List for DRAW v5.2 10
September 19 2023
Australian Masters Games 2023
Skater list here
Skaters please check your divisions
September 17 2023
SA State Championships & Spring Cup: 14 & 15 October
Entries close Sunday 24 September 9pm
Announcement
Entry Form
Music Upload Form
PPC Form
Please note: Skaters in Basic Novice and higher, Adult Gold and higher and Synchro teams must have skated in SA Skate 2023 to be eligible to compete in the State Championships. Selection for National Championships will take place at the State Championships. Skaters must achieve the National entry score or higher at or prior to the State Championships. The highest Technical Element scoring skaters will be selected in order of their score to the maximum number of entrants allowed by ISA
September 12 2023
Australian Masters Games 2023 entries/registrations closing:
Friday 15 September 2023
Register here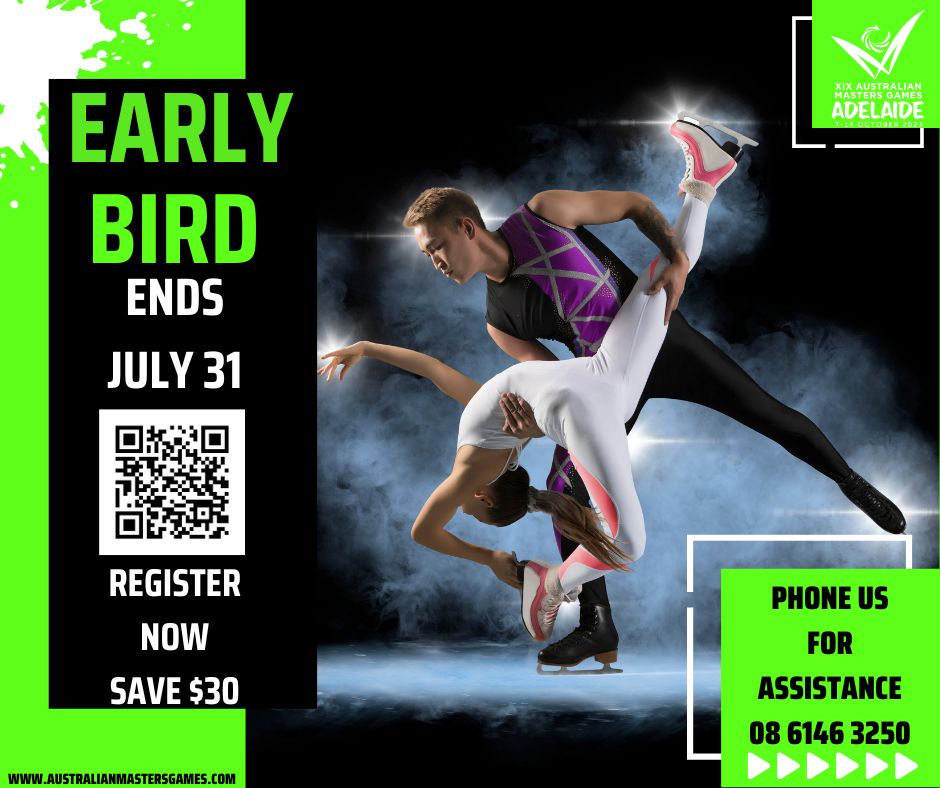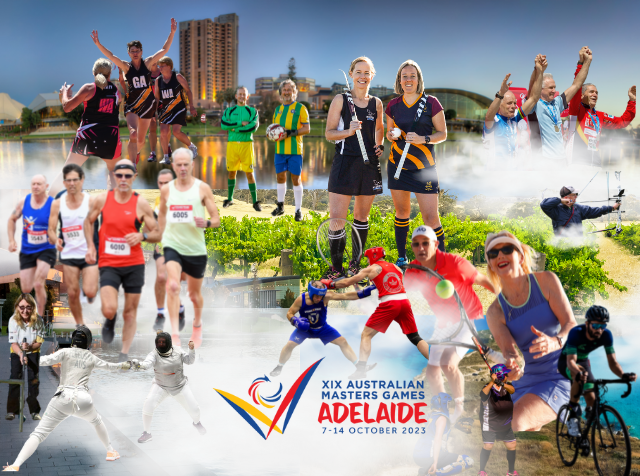 PPC and Music
For those that have registered already, please see below links for PPC form and music upload. Please complete this by Monday 25 September 2023.
Music form here
PPC Form here

Artistic Competition
The artistic competition will be categorised by division and age group. Please just enter either adult or advanced adult and you will be placed in the same division as your technical division, for example Bronze 18-29 years. If you are only doing the artistic please email SAISA with your level and age group.
Figure skating specific information can be found here: https://australianmastersgames.com/sport/figure-skating/
More information about the Masters Games 2023 can be found here:https://australianmastersgames.com/.
July 28 2023
​July 24 2023
SA Skate 2023 Results here
July 19 2023
SA Skate 2023 Schedule and Skating Order after the Draw here
July 15 2023
June 20 2023
SA Skate 2023 Annoucement here
SA Skate 2023 Emtry Form here
SA Skate Music Submission link here
SA Skate PPC Singles form here
Note 1: coaches must submit their intent to present skaters and teams at SA Skate 2023 by 2 July. Please email SAISA a list of skaters names and levels by 2 July
Note 2: SA Skate 2023 will not be a Benchmark Event. SA Skate 2023 can still be used to achieve the qualifying score for Nationals but not for international events.SA Skate 2023 can still be used to qualify for SA State championships.
April 18 2023
Skating Workshop: Clarence Ong Program Review for Novice-Senior:
April 25 & 26 @10am-12noon on-ice for observation of programs and
12pm onwards feedback session
Next Test Session: April 25 & 26 @12:15pm (entries closed)
Plese note start time change for the tests due to rink requirements!
Further Test Sessions: May 27 @12:30 (Sat)
Further Test Sessions: June 24 @12:30 (Sat)
April 8 2023
April 6 2023
Schedule Final V2 with corrections to Aussie Skate section as at 6 April here
April 5 2023
Schedule Final as at 5 April here

April 1 2023
DRAW: Panda Challenge Entry List after the Draw here
March 29 2023
Panda Entry List 2nd Update 29/03/2023 here
March 25 2023
March 20 2023
February 8 & 26 2023
Panda Challenge 2023: ISA Champ Series Event
Announcement here
Date: 8 & 9 April Note change of date
Panda Entry Form here
Please note: music upload, and PPC forms are in the entry form.
Silver Blades Membership Form 2023 here
Updates and further Silver Blades information here
November 2022
October 24 2022
State Team announced here updated with POA & Member numbers
October 23 2022
State Team announced
Congratulations!
October 18 2022
Verification of TES (Technical Element Score) for State team selection
Submission here
October 16 2022
SA State Championships A Champ Series Event & Spring Cup 2022
Results here
October 12 2022
Schedule and Skating Order here
Family and Friends Roster States 2022 here
SAISA Competitions Role Descriptions here
September 12 2022
SA State Championships A Champ Series Event & Spring Cup 2022
Saturday 15 and Sunday 16 October
IceArenA, Thebarton, Adelaide
Entries now open
​Closing date 26 September
Announcement here
Entry Form here
Music Form & Upload here
PPC Singles here
PPC Synchro, Pairs, Dance here
See also the State Championships page here
SAISA Code of Conduct here
SAISA Competitions and Championships Guidelines updated here
Link to ISA Policies including Champ Series Policy here
July 22 2022
​July 19 2022
July14 2022
July 10 2022
July 6 2022
June 28 2022
SA Skate 2022
Saturday 23 and Sunday 24 July
IceArenA, Thebarton, Adelaide
Entries now open
​Closing date 13 July
Announcement here
Entry Form here
Music Form & Upload here
PPC Singles here
PPC Synchro, Pairs, Dance here

NFSC Big Chill Technical Competition 2022
Saturday July 2 @ 4-7pm
Entries close Saturday June 18 @ 11:59pm
Announcement and Forms here
June 2022
Performance Skills Workshop with Sean Abram:
including Components and Technical Rules update
For all Skater members; Coaches and Parents also welcome to enrol
IceArena, Thebarton
Saturday 25th June 2022 9:45am - 3:00pm
Further information here

Next Test Session Saturday June 18 @11.15am
With Development Ice Time for skaters competing at Swan Trophy (WA). Enrol here
June 2022
Next Test Session Saturday June 18 @11.15am
May 17 2022
SAISA AGM: Tuesday 31 May 2022 @ 7:00pm Sport SA, Military Road, West Beach
Information page here
February 26 2022
Just back from the Olympic Winter Games, Winter Olympian and Flag Bearer for Australia, Brendan Kerry, along with Winter Olympian Monica MacDonald, will present a Workshop 5 & 6 March 10am-12noon & 4pm-6pm at the IceArena for SAISA Members from Preliminary level through to Senior.
Workshop Schedule here
Workshop Flyer here
Enrolment Form here
​Further instructions and information here